Test Drive a 2023 Rogue
Book an appointment to test drive a 2023 Nissan Rogue at [Dealer Name]. One of our representatives will contact you to discuss your needs and to help you find the best option. We will offer you the lowest price for your 2023 Nissan Rogue!
The Most Versatile Rogue
The 2023 Nissan Rogue is the most versatile SUV ever imagined. With its consumption of up to 7.6 L / 100 KM of combined fuel, you will be more independent than ever. This vehicle adapts to your lifestyle, with a maximum loading capacity of up to 2,098L. Several technologies, available in the base model, will amaze you, including heated front seats, heated steering wheel, and pro-pilot assistance. Discover all the features of the Nissan Rogue offered in the 5 available versions: S, SV, SV Midnight Edition, SL and Platinum. Obtain a 3 year/60,000 KM warranty on the transmission/engine group, and 5 years/100,000 KM on the rest of the vehicle. The reliability of the 2023 Nissan Rogue is without doubt, making it one of the most versatile SUV!
3 High-Tech Displays
Information is accessible on three optional screens: high-resolution digital gauges, an impressive 9-inch touchscreen and a head-up display that projects essential information such as speed and turn-by-turn directions onto your windshield. Wireless Apple Carplay and Android Auto integration also enhances your driving experience on the road. And with the 4 speakers integrated in the Nissan Rogue 2023, you will truly enter your own technological world.
See Inventory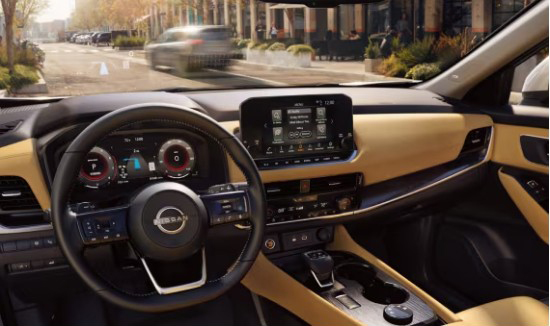 Choose Your Drive Mode
Always be prepared, whether it's a change in weather, driving conditions or terrain. Available Intelligent All-Wheel Drive includes new driving modes designed to tackle snow, dirt, rain and gravel.
See Inventory
Standard Safety Shield 360
The Nissan Rogue comes standard with some of the most advanced safety features and driving technologies on the market. Take advantage of 360 degrees of active driving assistance, its head-up display, its collision avoidance and pedestrian detection systems for more confidence behind the wheel.
See Inventory
Rogue Gallery
Click on an image
Translation test